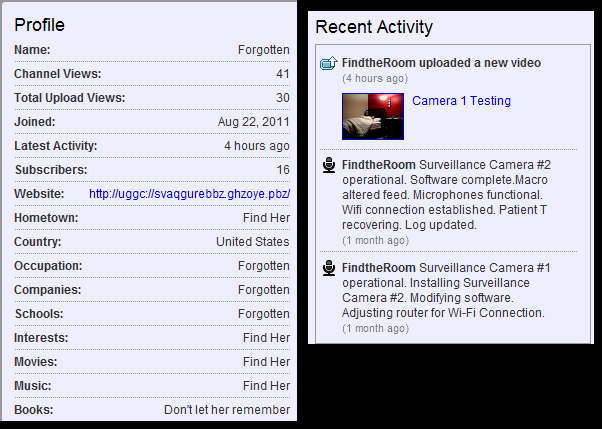 Find The Room is the follow up ARG/vlog series which follows TJA Projects, and was active from November 1, 2011 through November 20, 2011. Find The Room was primarily gamist in focus, as the YouTube channel had only three videos posted throughout the duration of the series, with limited number of postings made on a tumblr site.
Find The Room acts as an interim series which established the survival of TJ following the catastrophic car accident reported at the end of TJAProjects, as well as introducing several new characters and new plotline/game elements. The most important of these are the characters of Servus and "Andrea", an alter-ego of TJ who had no memory of the events that occurred in TJAProjects (including the existence of Dahlia, Amy, Jake, or any other member of their extended family).
Find The Room is succeeded by Making New Memories, the vlog established by the surviving "Andrea Shepard" where she attempts to find a new life and investigates the mystery of her amnesia and certain strange items she discovered in The Room.
Both the YouTube account and the tumblr for Find The Room have been closed or removed and are no longer available online.
Camera 1 Testing VideoEdit